Careers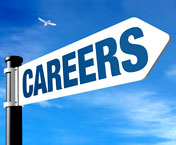 Fairview Outdoor Advertising (FOA) provides a number of exciting career opportunities in all areas of the outdoor advertising business:
Sell and consult on the different media options
Perform marketing functions which include promotional and client advertising campaigns
Provide general, administrative or real estate support as needed
FOA recruits and hires without any consideration to race, color, sex, national origin, religion, age, marital status, sexual orientation, gender identity, gender expression, disability, veteran status, or any other physical characteristics protected by law (EOE/AA).
As an equal opportunity employer, FOA is committed to recruiting and hiring qualified candidates and provide those candidates with a fair opportunity to become a valued team member and a part of the Fairview Outdoor family.
Fairview Outdoor's philosophy is to provide an exciting and challenging work environment where employees can work as team members and respect one another as equal members of the team. We believe in investing in our teams and encourage creativity and individualism. As a result, we believe in ongoing training and development programs demonstrate that we invest in our teams and help them build their skills and experience. Fairview Outdoor recognizes that career growth and potential and an attractive benefits and competitive pay is an important part of any career choice.
If you are passionate about outdoor advertising, and want to play an important role in a great team, please feel free to send us your resume using Contact Us form.